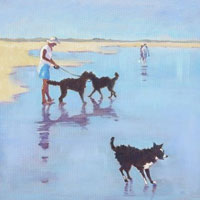 Mary Kemp
Meet Steve, the friendly printer.
I've only just found Steve Meadwell, but when I asked around I discovered that Steve had been producing fine art prints for loads of my painting friends, so he seemed the obvious choice to handle my artwork.
I had decided  it was time to share some of my paintings as  really nice prints, not the ones you make at home which can be ok up to a point, but properly photographed and printed to archival quality type prints.

After all the best art deserves the best reproduction !